It's simple really……the secret is in the sauce!! I have to be honest when I first started blogging I thought "this is fun and all but what's the point if I have no one to share it with?" And then I found SITS and was introduced to an amazing group of bloggers that welcomed me with open arms.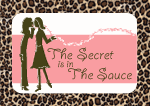 And today at SITS it's all about me!! So if you are visiting for the first time I am so glad to have my SITSta's here and if you are a regular friend of mine welcome back. The "about me" blurb to the right pretty much sums me up in a nut shell.  A huge thank you to Tiffany and Heather I am honored to be in their spotlight today!!
Some of my favorite posts
Cougar Town Inspired Necklace: Tutorial                               
                  Repurposed Spice Rack
Crisscross Coaster Tutorial                                     
Last but not least….My favorite kids craft!!
 Edible Finger Paint